About My Library
Benchmark Universe consists of a series of resources and materials organized in libraries. The resource libraries you have access to are determined by your district and/or school's subscriptions.
You can use the library to filter, search, view, and customize book titles. Use the School and District Customization Libraries to share your favorite eBook customizations with your colleagues. You can also add materials to bookshelves and assignments or do book reviews, all in one place!
The different libraries have the same functionality but offer a few unique characteristics, such as filter types. Use the library-specific filters on the filters panel to get the materials you want. Materials are organized in your libraries based on the program and filters selected.
Library at a Glance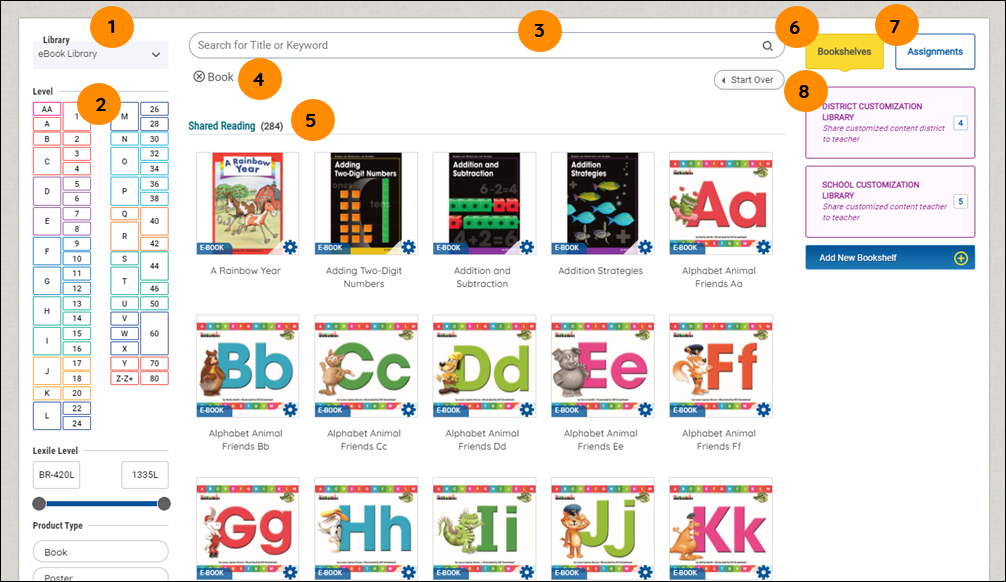 Library Legend
Description

1. Library list

Use the drop-down list to choose a different library, if available.

Note: You will only see the libraries that your district has subscribed to.

2. Filters panel

Each library has its own unique set of filters.

Use the filter buttons to set or clear the filters applied to your library. The filter buttons act as toggle keys and change color when selected.

Some libraries include an All Filters button at the bottom of the filters panel. Use this button to further filter your resource results.

Note: Filter options in any library may be added, removed, or changed without notice, and may differ from those listed here.

Filter materials in the eBooks library by:

Level
Lexile Level
Product Type
Language
Content Area

3. Search bar
Search resources by title or keyword.
4. Filters bar
View the filters you have applied to your library, delete filters, or use the Start Over button to clear all filters.
5. Materials display area, Gear icon, and customization icon

Use the Materials display area to:

View materials returned based on the filters applied to the library.
Click the thumbnail image to open the material.
View the label to identify the material type.
View a customization list below the thumbnail, if any.
Click on the Gear icon to see more information about the resource, add it to an assignment or bookshelf, and more.

Note: My Library titles which contain a customization are denoted by a customization icon under the thumbnail.

6. Bookshelves
View, access, and add bookshelves to your library.
7. Assignments
View, edit, and add assignments.
8. School and District Customization Libraries
View, add, and share customizations with other teachers and administrators in your school or district.
| | |
| --- | --- |
| | District Administrators will only see the District Customization Library.<![CDATA[ ]]> |
Last Updated: January 13, 2022