Get Started with the Resource Library<![CDATA[ ]]>
Be your own librarian and find books and other resources by grade, unit, and language. Create bookshelves of your favorite books. Get information about the books you picked. Switch from being a librarian to a book critic. Read it, review it, and see book reviews by your classmates. The sky's the limit!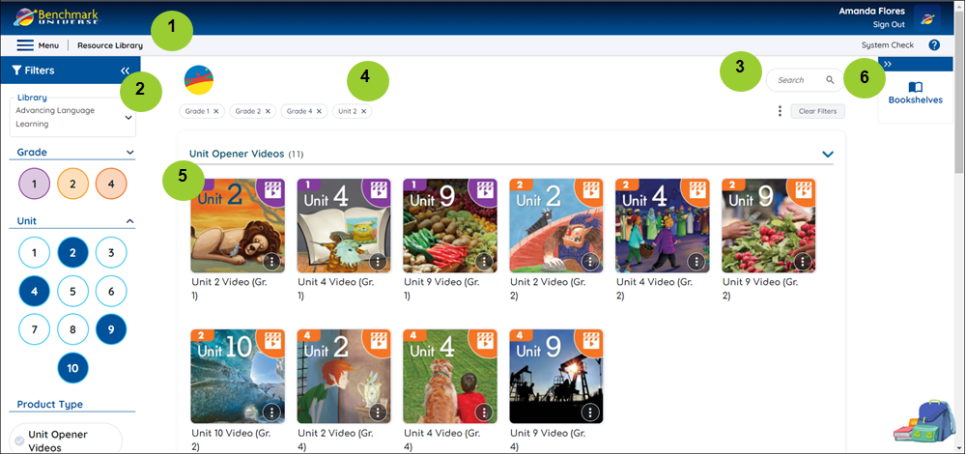 Library Map
Description

1. Page Icon and Name

Display a panel and navigate to Benchmark Universe tools. Know where you are and what page you are working on.

2. Filters panel and Library Select

Search or select for the library you want in the Library Select dropdown.

Each library has its own unique set of filters.

Use the filter buttons to set or clear the filters applied to your library. The filter buttons act as toggle keys and change color when selected.

Some libraries include an All Filters button at the bottom of the filters panel. Use this button to filter your results.

3. Search bar

Search by book title or keyword.

See the filters you have set for your library, remove filters, or clear all filters and start over.

4. Filters bar
View the filters you have applied to your library, delete filters.

5. Materials display area, More Options icon, Expand and Collapse buttons, and Customization icon

Use the Materials display area to:

View materials returned based on the filters applied to the library.
Click the thumbnail image to open the material.
View the label to identify the material type.
View a customization list below the thumbnail, if any.
Click on the More Options icon to go to the Resource Options modal to find out more about the resource, add it to an assignment or bookshelf, and more.
Use the Expand and Collapse buttons to show more or fewer resources in each section. Students viewing resources in the Materials display area will only see two rows of resources displayed. You can use the Expand and Collapse buttons to display more resources.

Note: Library titles which contain a customization are denoted by a Customization icon under the thumbnail.

6. Bookshelves

View, access, and add bookshelves to your library.
Last Updated: October 19, 2022