About the Sync Results Page<![CDATA[ ]]>
Technical Administrators or District Administrators tasked with roster management for a district can access the Sync Results page to monitor data changes as they are synced from the data source (Clever, ClassLink, etc.). Benchmark runs a nightly sync on the district's shared data from the data source to bring in any incremental data changes that may occur throughout the school year. Some common examples of these incremental changes are new user account creation/deactivation, user record updates, and class roster additions and subtractions, among others.
One aspect of monitoring data sync results is the ability to identify issues, fix the source data, and successfully sync and verify a data change. The Sync Results page allows administrators to accomplish this as described throughout this section.
Access the Sync Results page
Administrators tasked with roster management can access the Sync Results page from their Tech Admin district page. Access Tech Admin, then use the Sync Results passthrough button.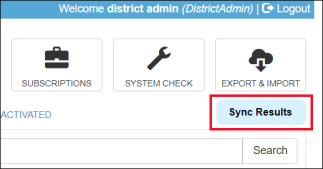 Sync Page at a Glance
Below is a brief overview and description of the Sync Results page's features.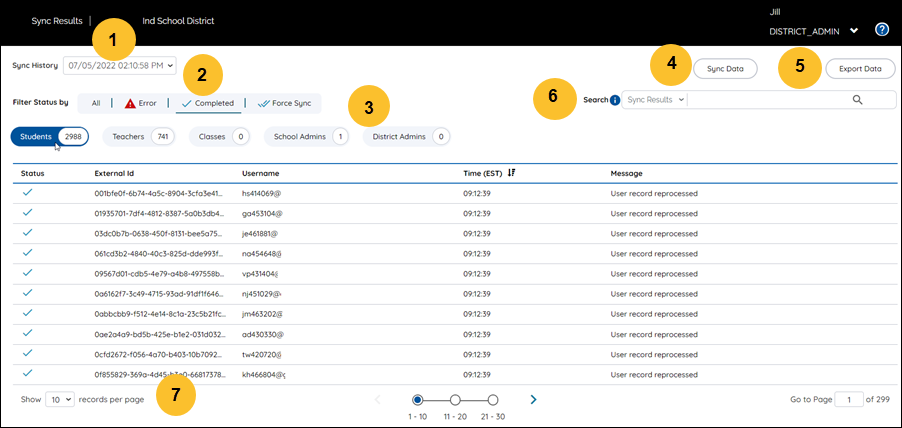 Tech Admin Legend
Description

Sync History

Use the selector to view results for the last 30 data syncs.

Filter Status by

Use the category tabs to filter the data results that are displayed on the screen.

All – Lists all data records that were processed.
Error – Lists data records that resulted in an error.
Completed – Lists data records that were processed successfully, including force synced records.
Force Sync – Lists data records that were force synced by an administrator.

Entity selectors

View data results by entity type (e.g., Classes).

Sync Data button

Run an incremental data sync to bring in any new data changes.

Export Data button

Export data based on the chosen filters (e.g. Student errors).

Search

Search results on the screen (Sync Results) or search for a specific user or class in the source data (API Search).

Page Display Options

Change the number of records displayed on the page, move forward or backward between pages, or select a page number to go to.
Learn more about the Sync Results page by exploring these Help topics: