Access Tech Admin<![CDATA[ ]]>
Districts that are new to Benchmark Universe receive a username, password, and realm for the district's main technical contact to access Tech Admin as a Technical Administrator. Once logged in, the Technical Administrator can create District Administrator or School Administrator accounts as needed, or simply view the user accounts created through a data sync.
| | |
| --- | --- |
| | Every district is assigned a unique realm which is used to ensure that each district's data and access to Benchmark Universe remains separate from each other. For example, Sesame Street School District could be assigned 'sssd' or 'sesame' as their realm. Tech Support discusses choosing a realm with the district representative(s) during the Onboarding process. |
Sign into Tech Admin
Administrators can sign into Tech Admin if the credentials were provided by Tech Support or if admin accounts were manually created with a username and password. A District Administrator whose account was created via data sync but needs access to Tech Admin because he/she is tasked with managing rosters can use a passthrough from Benchmark Universe.

Go to https://techadmin.benchmarkuniverse.com to access the sign in page.
Type your district's realm in the Realm box.
Type your username in the Username box.
Type your password in the Password box.
Press Enter or click Sign in.
Tech Admin Passthrough Access from Benchmark Universe
If you have a District Administrator account for Benchmark Universe syncing from Clever, ClassLink, or Microsoft SDS there is an easy way to access Tech Admin without needing Tech Admin credentials to sign in. This passthrough from Benchmark Universe should be enabled if you are listed as one of our rostering technical contacts for your district.
| | |
| --- | --- |
| | If you meet the criteria above and do not see the Manage Roster button in Benchmark Universe as described below, please contact techsupport@benchmarkeducation.com to enable this feature. |
Access Benchmark Universe through your single sign-on button.
On the left side of your dashboard landing page click Profile Settings.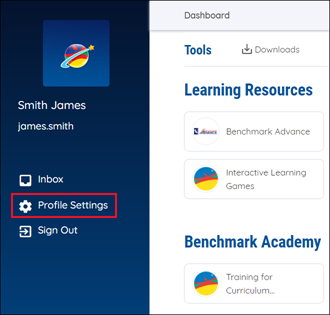 On the right side of the Profile page click Manage Roster.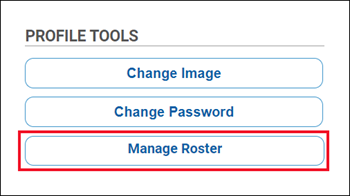 You are automatically logged in and sent to your District Admin homepage in Tech Admin.