Administering a Foundational Skills Assessment<![CDATA[ ]]>
The Administration page is where teachers go to administer a Foundational Skills Assessment to their students.
Navigate the Administration Page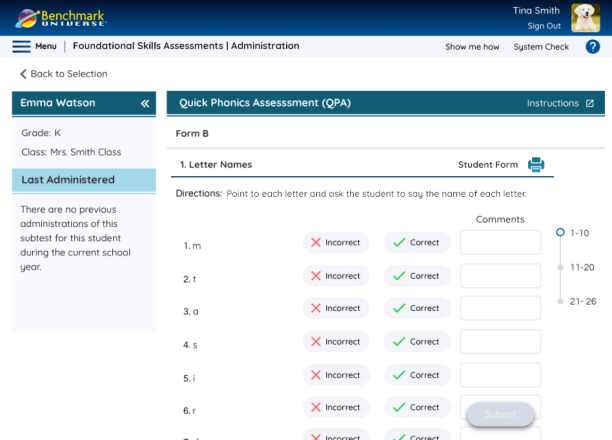 Access the Administration page by clicking the Administer button on the Selection page. This is where you will record student responses to the assessment items​.
This is the default view when you first open an assessment​. You can view a summary of the last test administered to a student in the Student Summary panel, view any instructions (if applicable), or access the associated student form by clicking Student Form (if applicable).
As you administer the assessment, record student responses as Correct or Incorrect using the corresponding buttons, or assign a numerical score as applicable. You can also add comments for a particular item​ in the Comments box.
For longer assessments, there may be a vertical pagination bar to access additional items.
You can collapse the Student Summary panel in order to have more space to view and/or administer the assessment​.
Administer a Foundational Skills Assessment<![CDATA[ ]]>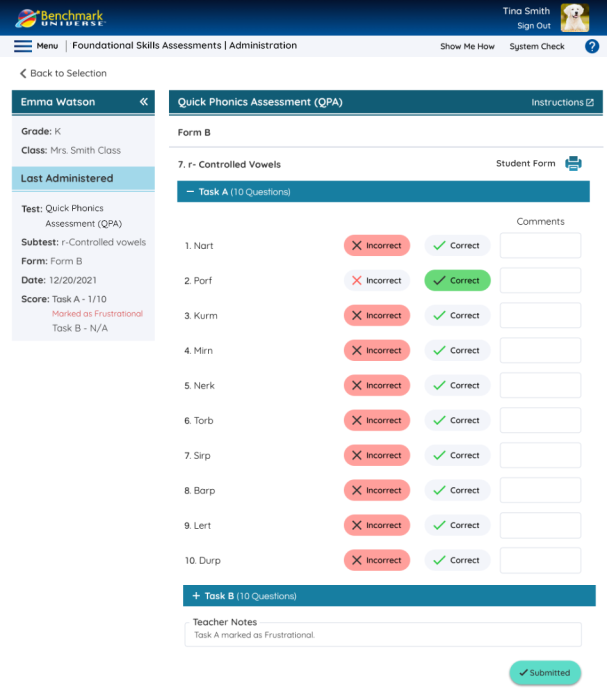 Record or score the student's response to each item. Responses will change color when selected​.
The Submit button becomes active once all items are scored.
Select Submit to score and save the assessment​.
Edit a Foundational Skills Assessment <![CDATA[ ]]>
You can edit a previously submitted assessment by selecting it from the Selection page and clicking the Administer button. You can modify student responses, comments, and teacher notes. The first change you make will open the following modal.​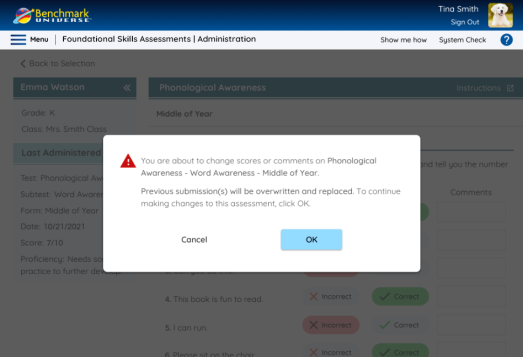 Choosing OK overwrites and replaces any previous responses.​
Choosing Cancel will preserve all previous selections made.​
You must then re-submit the assessment using the Submit button to save the changes.
You will then see an "Edit Successful" notification and the Student Summary panel will update with the latest date, score, and proficiency level (if applicable).