Play the Matching game
The object of the game is to click the cards to flip them over and reveal the images/words on the underside. Find two compatible images/words and get a match! You and your students can select the question mark in the Matching game for game-specific instructions.
Matching Game at a Glance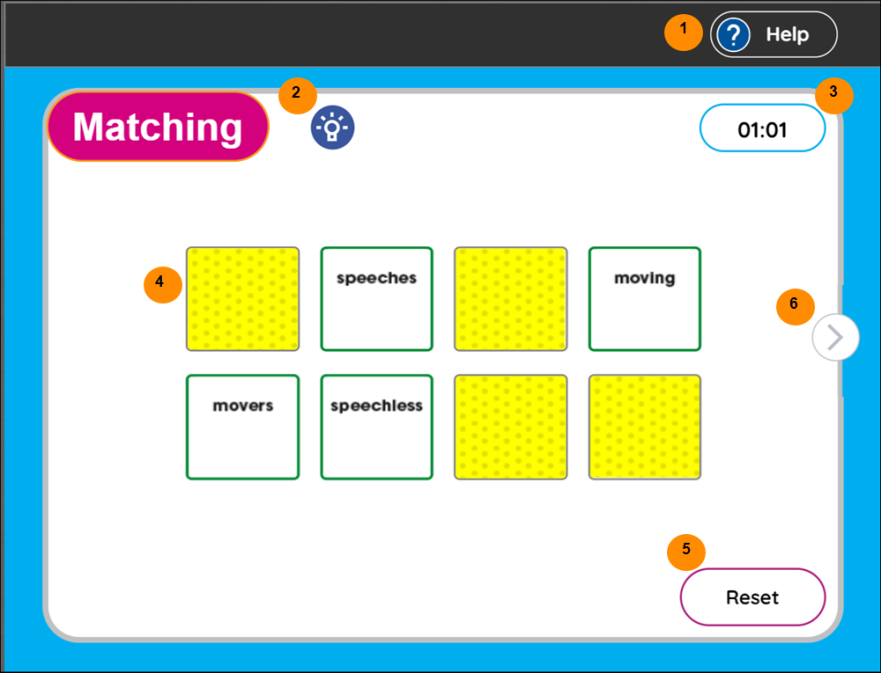 Matching Game Legend
Description
1. Help button (?)
Access game-specific instructions.
2. Instructions icon
Read about how to play the game. Click the Listen button in the Instructions modal to hear how to play the game.
3. Timer
View how long it takes to complete a game. The game becomes more challenging if a time limit is set.
4. Game board
Use to flip cards and make matches.
5. Reset button

Reset the round you are currently playing.

Note: Select any card to start the game.

6. Next or Previous Round button
Access the next or previous round of the game. The button lights up and becomes active when a round is completed.
How to play the Matching game
Click any card to start the game.
Click any card to find a match.
Accessibility
Users can navigate through the game using the keyboard via the tab and left and right arrows keys while using a screen reader.
For Touch Screen users

Touch a card on the screen with your finger to flip the card or touch any other game button.
Last Updated: October 09, 2023