Using the Resource Options<![CDATA[ ]]>
You can access a range of specific options in the Resource Library by selecting the More Options icon.

Navigate the Resource Options modal
The Resource Options modal offers you additional options for resources selected.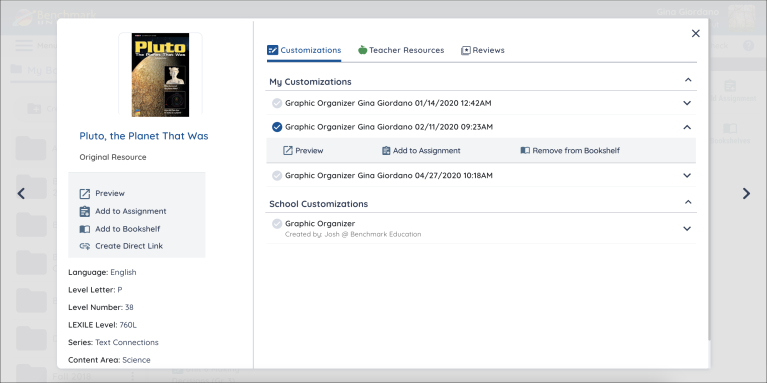 The menu on the left allows you to:
Preview: Preview the original/ uncustomized resource
Add to Assignment: Add the resource to the assignment, if the resource is assignable to students
Add to Bookshelf/ Remove from Bookshelf: add the resource to a specific bookshelf.
Create Direct Link: create a shareable direct link (if available) for the resource
The menu also provides additional information about the resource.
The menu on the right allows you to access available customizations, examine teacher resources, or look at user reviews for the material. These sections only appear if they are available for the resource you are viewing.
Use the arrows on either side to move between resources in the Resource Library.
Examine Teacher Resources
Users can examine teacher resources (if available) by using the Teacher Resources section of the Resource Options modal.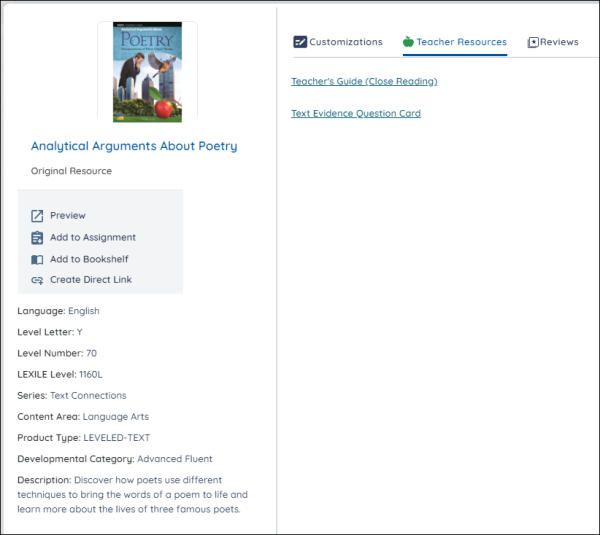 Inside, you can select between all the available resources and choose the appropriate item for your classrooms.
See Reading Level

If a resource has a reading level, hovering next to the More Options icon reveals a color-coded version of the reading level for that resource.
View Resource Assignments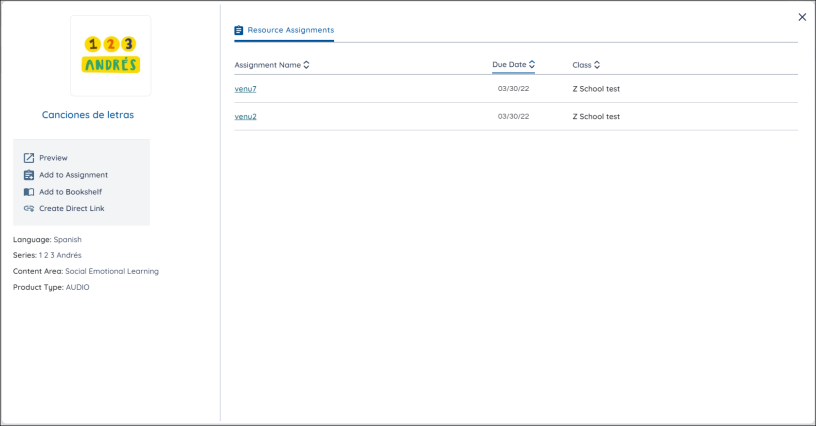 You can see the assignments to which a specific resource is assigned to by using the Resource Assignments tab. Selecting an assignment in the Assignment Name dropdown takes you to the Assignment Details of that assignment.
| | |
| --- | --- |
| | Administrators can access a dropdown that allows them to select a specific teacher to see their resource assignments. |
View Student Book Reviews
You can view student book reviews from the Resource Options modal.
Find a book from your library or bookshelf.
Click the More Options icon on the cover. The Resource Options modal appears.
Press the Reviews button. A list of available Book Reviews appears.
Last Updated: July 19, 2022