Analyze a Student's Oral Reading Records
Use the Analysis step to evaluate the reading behaviors and strategies the student uses while reading both fluently and at points of difficulty. Conduct the Analysis after the student finishes reading the Passage and answering Comprehension questions. This step is optional, and can be completed at any time, including after your session with the student.
Watch the video below for a step-by-step guide to analyzing a student's oral reading records.
Analyze a Student's Record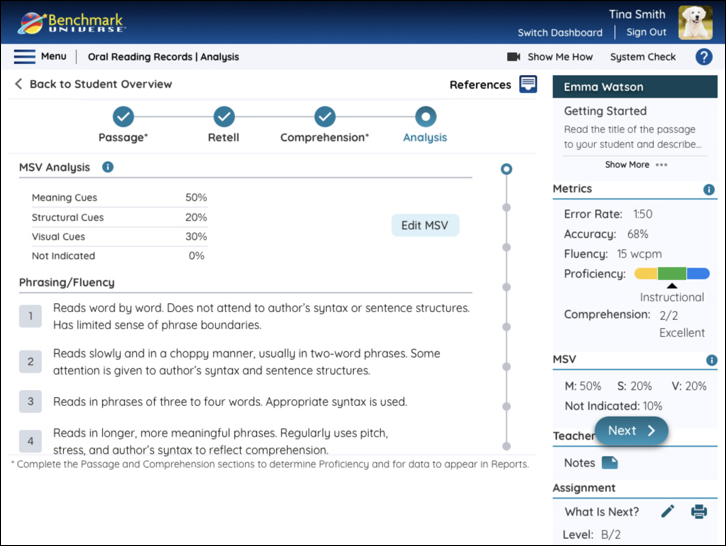 When the student has finished the Comprehension section, continue to the Analysis page by hitting Next or selecting the Analysis step in the Navigation bar.
A student's comprehension of the text and how language is organized in the text is demonstrated by fluency. Assessing Fluency and Accuracy will help you identify fluent reading behaviors and the level of student fluency. You can evaluate student fluency in four main areas:
Phrasing/Fluency
Intonation
Pace
Accuracy
Processing Behaviors and Strategies
Strategies are defined as problem-solving actions the reader employs to gain meaning from the text, such as:
predicting future events
anticipating language structures and patterns from text
rereading to self-monitor
The options in this section vary by the reading level of the text.
Any behaviors tracked here will be compiled and displayed in the Reports section.