About Benchmark Writer's Universe
See What's New to learn more about the new Writer's Universe features and upgrades.
Writer's Universe projects guide students through the steps of the writing process, from brainstorming through drafting, all the way to publishing the final project!
Each Writer's Universe project is organized into the following stages:

About the Genre — Students learn about features of the genre they will be writing in.
Pre-Write — Students brainstorm ideas, choose a topic, and plan their writing.
Draft — Students write their first draft.
Revise/Edit — Students revise their draft using helpful tips and teacher feedback.
Publish — Students publish their completed writing project.
Reflect — Students think about and provide information about their writing experience.
Writer's Universe at a Glance
The Writer's Universe Project Manager is the main control center for teachers to monitor and review student work.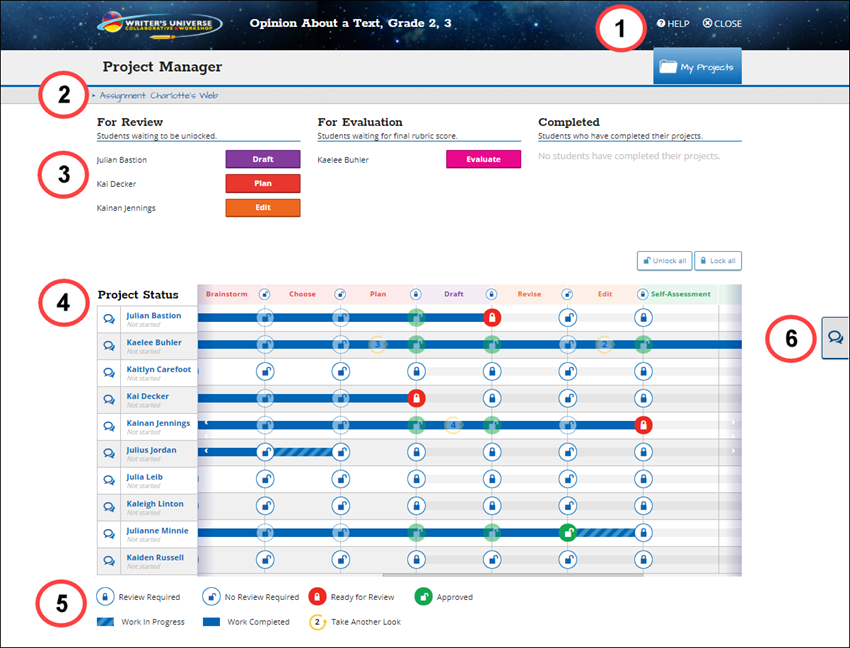 Help — Click Help at any time to learn more about Writer's Universe. Click Close to exit the Project Manager.
Assignment — The assignment name and instructions appear in the header for reference.
Status Buttons — Displays which students, and at which step of the writing process, require a teacher review before moving on, and those that have completed the project. Click the button to enter the student's project at that step.
Status Chart — Control step locks and monitor student progress.
Key — Use the key to better understand the icons used in the Status Chart.
Chat — Access the chat room to conference with your students, individually or in groups.
Teachers can help guide students through the writing process by using collaboration tools like step locks, comments, chats, and the Take Another Look feature, allowing you to ask a student to Take Another Look at a specific step they may be struggling with.
Print out the Writer's Universe Quick Start Guide, and learn more about Writer's Universe by exploring these help topics:
Last Updated: December 20, 2019