Assign projects
To create an assignment, select the Assignments button in the right pane of the Library. Then complete the information fields listed below.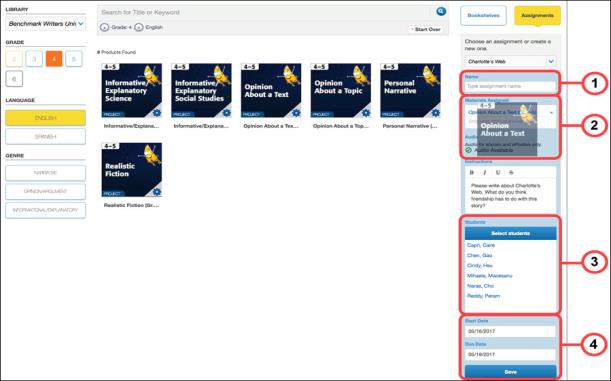 Name your assignment.
Click and drag a writing project tile from the Library and drop it into the Materials Assigned box.

| | |
| --- | --- |
| | You can also use the gear menu to add a project into an assignment. |

Select the students who will receive the assignment. Select your whole class, an individual student, or one of the groups you created in Manage Students. Click Done once you've chosen your students.
Choose start and due dates, then click Save to complete the assignment.
Students receive a notification on their Dashboard that they have a new assignment.
See Create an assignment to learn more about creating assignments in your Library.
Last Updated: December 20, 2019