About Benchmark eAssessments
What are Benchmark eAssessments?
Benchmark eAssessments is a comprehensive digital solution for test-taking, grading, and reporting that seamlessly integrates with Benchmark Education's online learning portal, Benchmark Universe.
Benchmark eAssessments offer students an intuitive design that mirrors high stakes testing environments so they can get comfortable taking online tests. Teachers and administrators can access the grading environment to grade open-response questions, leave comments, and view student raw scores and achievement levels.
The reporting suite allows teachers and administrators to track progress and compare standards and test scores performance at the student and class levels to help inform instruction. Administrators have access to school and district level reports to help analysis at the school and district levels. Teachers and administrators can also quickly see the status of all assessments assigned online to keep track of what's been completed.
Check out this short overview video of Benchmark eAssessments.
Test Taker
Students see unanswered and bookmarked questions and are prompted to review them before submitting their final answers.
Students can use tools including a highlighter, line reader, and image magnifier as well as accommodation settings to adjust the font size and screen contrast. The highlighting tool persists once the student submits the test, so teachers can see what was highlighted by the student while they are grading.
Teachers can enable and disable audio support for assessments from the assignment page.
Check out this short video explaining the Test Taker navigation, question types, tools and settings, and test submission process.
Learn more about Test Taking by exploring these Help topics:
Grading
Easy-to-manage comment system so teachers can leave meaningful feedback on individual questions and the overall test.
Access to versions of a student's open response answers saved over time to analyze a student's response development.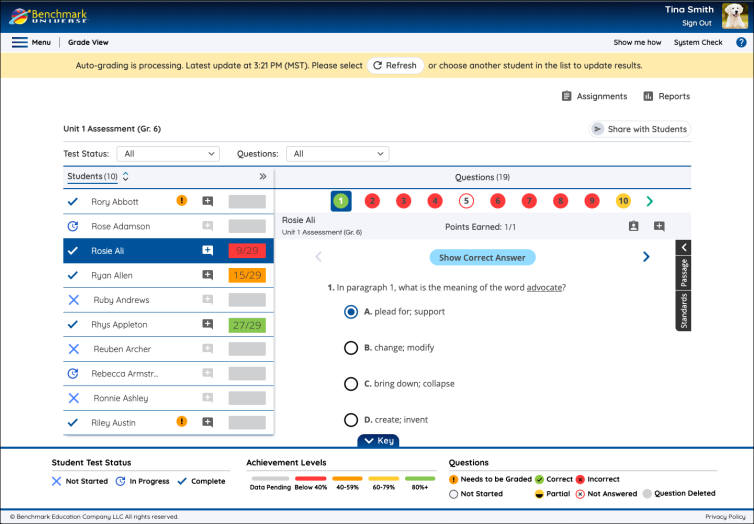 Learn more about Grading by exploring these Help topics:
Reports
Teachers and administrators get actionable insights from easy-to-understand reports showing test status, standards performance, and scores across assessments.
Teachers can create groups based on standards performance to help personalize instruction for all their students.
Check out this how-to video explaining reports.
Learn more about Reports by exploring these Help topics:
Delete a Question for Teachers
The Delete a Question for Teachers feature allows district administrators to save a custom version of any Benchmark eAssessment by deleting questions from the assessment. They can then publish the customization, making it the default version of the assessment for the entire district.
Learn more about Delete a Question by exploring these Help topics:
Delete a Question for Teachers
Delete a Question for Administrators
Delete a Question FAQ and Best Practices
Not seeing Benchmark eAssessments?
To learn more about Benchmark eAssessments please contact your local sales representative here, or contact tech support at techsupport@benchmarkeducation.com.
Last Updated: January 03, 2023