Reference the rubric, passage, and standards
The Rubric, Passage, and Standards tabs help teachers during the grading process. The Rubric and Standards tabs contain pertinent information about scoring and the standard applicable to the question being viewed. The Passage tab displays the associated text read by students before answering the question.
You can reference the rubric, passage, and standards by clicking either the arrow or the tabs located at the right of the Question display area.
About the Rubric
The rubric is a set of scoring guidelines used to evaluate student work. The rubric tab is only available when reviewing an Open Response question. Use the rubric tab as a guide when scoring students' responses.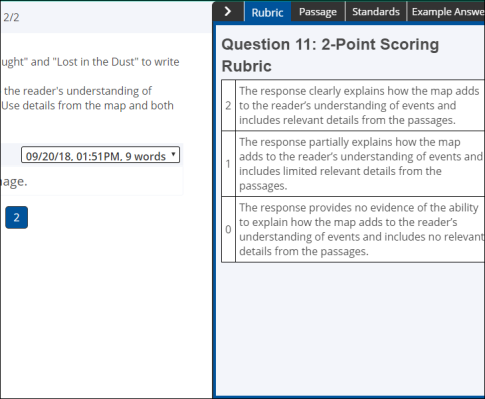 About the Passage
A passage is a portion or section of a written work; for example, fiction or non-fiction used in tests to evaluate a student's reading comprehension and proficiency. Students answer questions based on passages that appear as part of their test. The passage(s) will show any highlighted text made by students when completed tests are submitted for review and grading.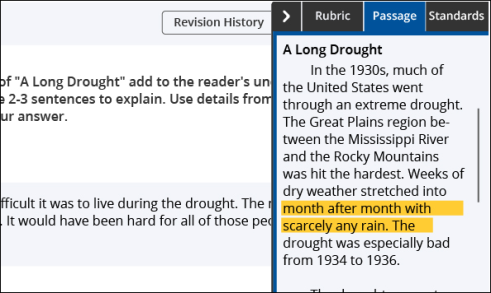 About the Standards
Standards represent the learning objectives for student knowledge and ability at their grade level. Standards information may not appear for all assessment subscriptions.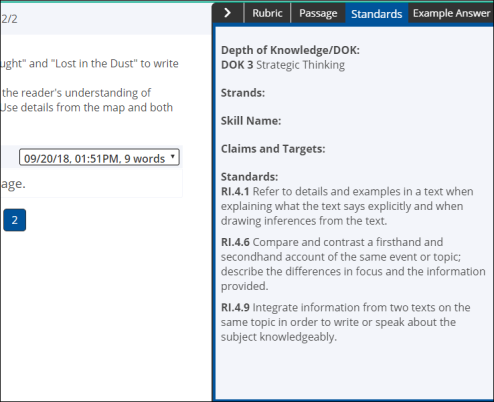 About the Item Rationale
The Item Rationale tab explains the reasoning for why a particular question answer is correct or incorrect. Item Rationale may not appear for all assessment subscriptions.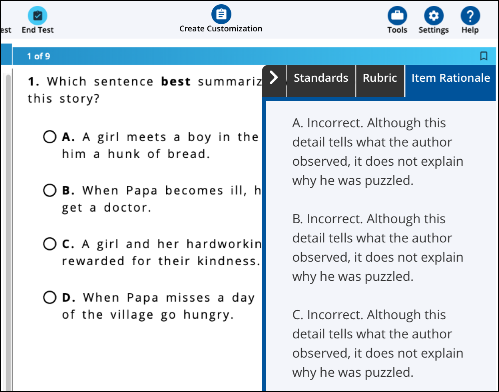 About Sample Answer
The Sample Answers tab appears for informative/explanatory texts that require students to incorporate specific information from the passages.
Last Updated: February 01, 2021