About ePocket Chart
The ePocket Chart is an instructional tool for teaching foundational skills. It includes markers, images, letters, word parts, high frequency words, and the ability for teachers to build their own cards. Three modes allow teachers to drag and drop these resources in a free space, with Elkonin boxes, and with pocket chart rows.
You can use ePocket Chart to create and save activities to support your foundational skills lessons, seamlessly present them to your class, share them with other teachers, and assign them to students for independent practice.
With ePocket Chart you can:
Use the Work View controls like the Activities panel and navigation bar that make preparing and presenting lessons easy.

Use the Work View controls like the Save and Save as icons to save existing My Customization files and save as to create new My Customizations files.

Use the Elkonin Box More options to create multiple row layouts and color-code boxes.

Create, rename, copy, delete, and move activities in any order to maximize the impact of your lessons with the Activities panel.

Present or assign customized files that contain collections of activities for classroom or student use and delete those that are no longer needed.
| | |
| --- | --- |
| | Students have the same ePocket Chart capabilities as you do except during an assignment. They have limited use of the Activities panel during an assignment. Students can only work on the activities assigned and mark them done. They cannot add new, rename, copy, or delete activities you have assigned them to work on. In addition, they cannot view or open any customized activities that they have created during an assignment. |
Before you start

Review the About ePocket Chart Help topic for an overview of the different parts of the work views.

See Access ePocket Chart for more information about accessing the ePocket Chart tool.

You must select a Work View and determine the number of Elkonin boxes or Pocket chart rows you need on the Welcome page. See Choose your work view or Choose your Elkonin boxes work view for more information. The ePocket Chart tool opens in a separate tabbed page. Simply, select the Close (x) icon next to the name on the tab to go back to the Library when you are done.
ePocket Chart at a Glance - Free Workspace Work View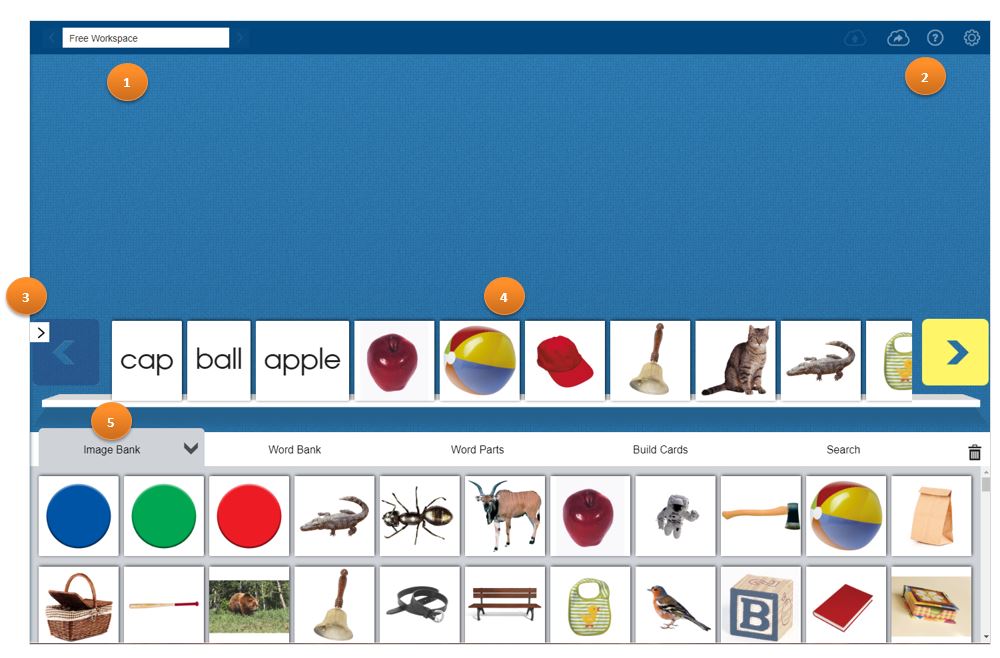 ePocket Chart at a Glance - Elkonin Boxes Work View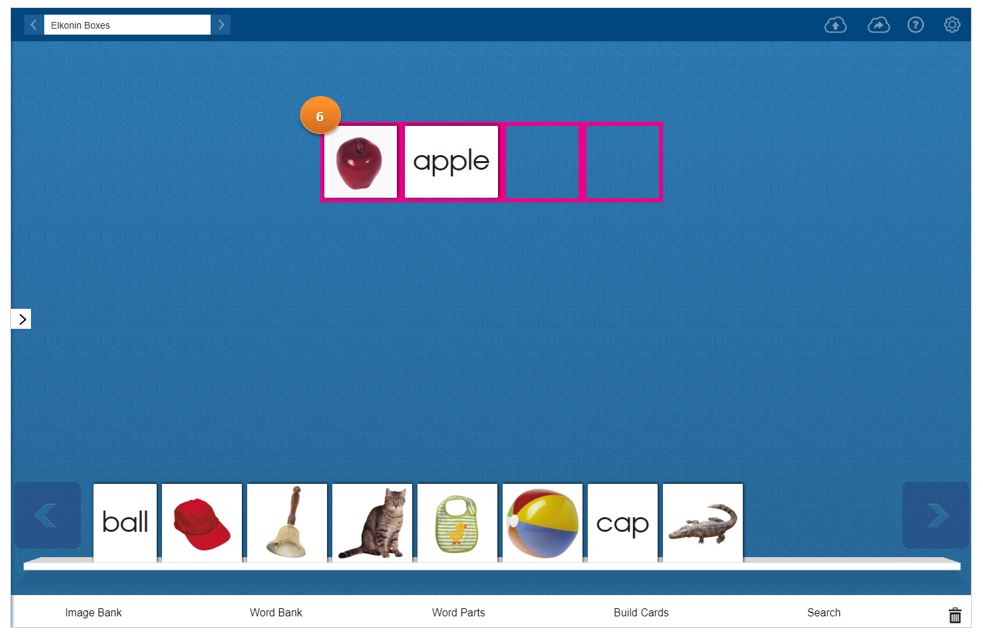 ePocket Chart at a Glance - Pocket Chart Work View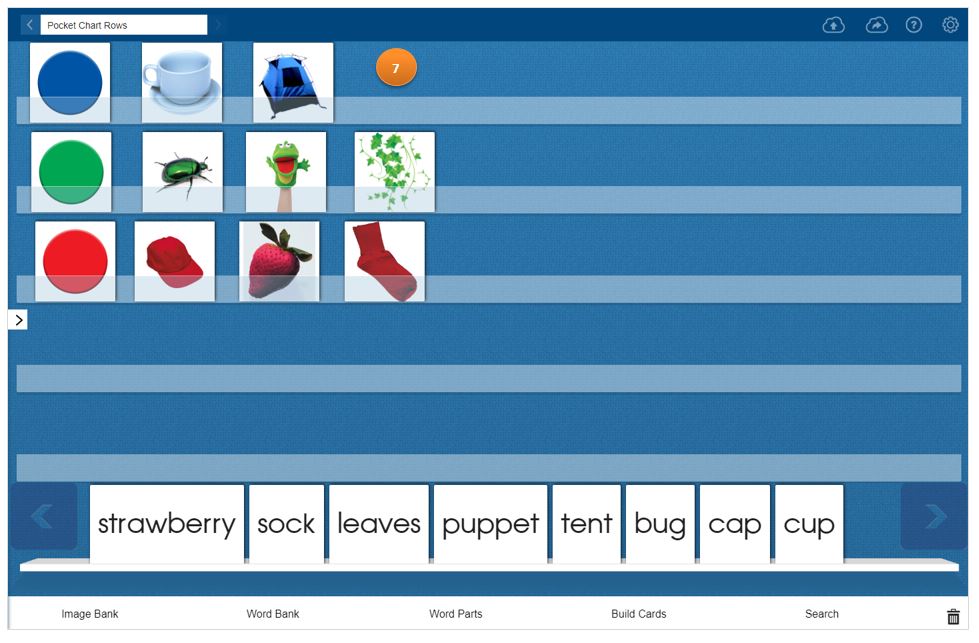 ePocket Chart at a Glance - Activities Panel Work View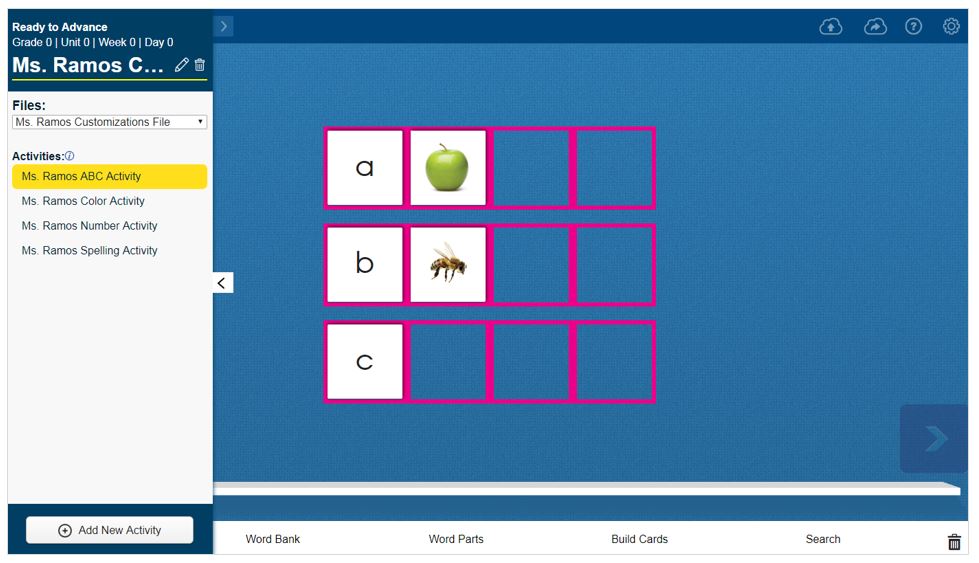 ePocket Chart Legend
Description
1. Activity navigation bar and arrows

Use to know which activity is currently displayed and to go to previous and next activities.

2. Save, Save as, Help and Settings icons

Use the Work View icons to:

Save activities in an existing My Customizations file
Save activities as a new My Customizations file
Access Help
Open the Settings dialog and

Change your work area appearance
Clear the shelf and work area
Change the card and letter color
Change the work view
Open customizations

3. Activities panel arrow

Use to open and close the Activities panel.

See Add new and customize activities for more information.

See Create My Customizations files for more information.

4. Previous and Next arrows and Shelf

Use the Previous and Next arrows to view cards on the shelf that are not visible.

Note: The arrows are dim when all cards are visible on the shelf. The arrows become yellow when all cards are not visible on the shelf.

View cards on the shelf.

Drag and drop cards from the shelf to the free workspace, Elkonin boxes, and Pocket Chart rows.

5. Toolbar, Expand/Collapse arrow and Trash can icon

Use the Toolbar to:

Get images in the Image Bank
Get words in the Word Bank
Get word parts in Word Parts
Build cards and
Search

Use the Expand/Collapse arrow on the Toolbar tab to expand/collapse the Toolbar options.

Use the Trash can to delete cards from the workspace or shelf.

6. Elkonin boxes
View and add cards to the Elkonin boxes.
7. Pocket Chart rows
View and add cards to the Pocket Chart rows.
Drag and drop card functionality

You can drag and drop cards in and outside of an Elkonin box.
Cards are removed from the shelf when used in the workspace, ePocket Chart row, or Elkonin box.
Cards in a free workspace, ePocket chart row or Elkonin box are automatically deleted when a new card is placed on the current one.