Create, Edit, or Assign Oral Reading Records Assignments (Admin)
With Benchmark Oral Reading Records, you have all the tools and support you need to successfully assess students, collect data, and plan instruction. Administrators, like teachers, can create, edit, and assign Digital Oral Reading Records to students in their schools and districts.
Administrator scan access the Oral Reading Record tile (under Assessment & Reports) from the Dashboard.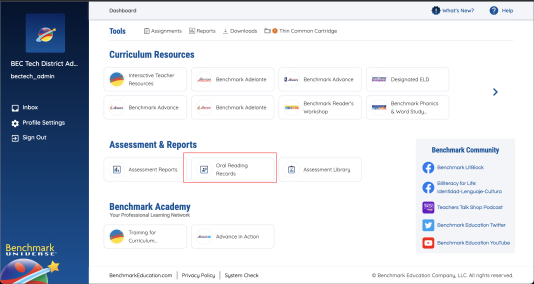 The process for administrators delivering Digital Oral Reading Records is nearly identical to the process for teachers. The only difference is how administrators select the Class they would like to view.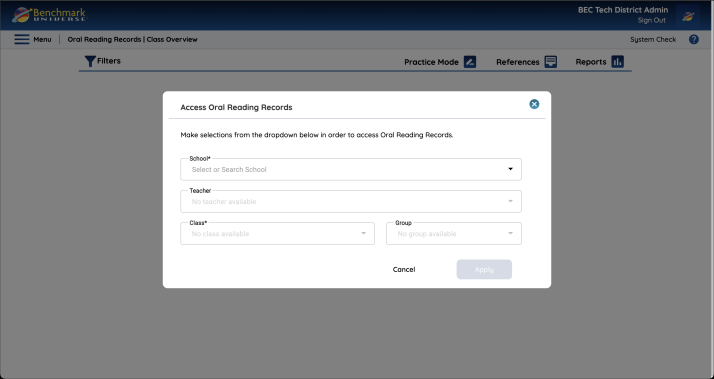 After selecting the Oral Reading Records tile, administrators will see the Access Oral Reading Records modal, which lets you pick the Class you'd like to view:
First select the School.
You'll see the Teacher (optional) and Class dropdown become available. These dropdowns contain all the teachers and classes in the selected school.
There might be a lot of classes in the Class dropdown, so you can filter down which Classes appear by selecting a teacher in the Teacher dropdown— select multiple teachers if you'd like. Then only those teachers' classes will appear in the Class dropdown. The teacher dropdown is optional.
Select a class in the Class dropdown. You can select a group, too, if you'd like, but the Group dropdown is optional.
When you're done, press Apply.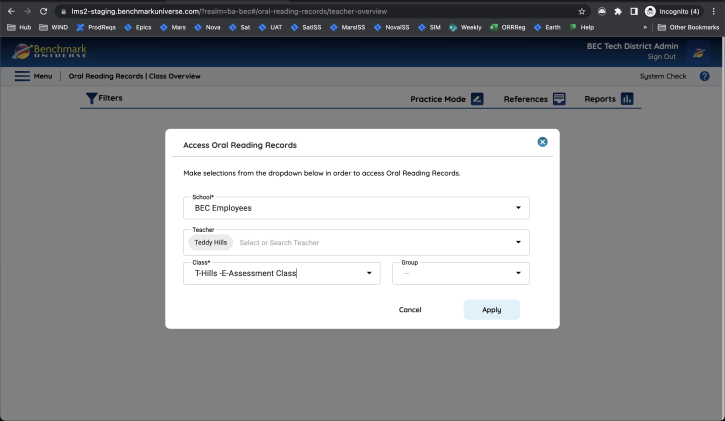 You arrive at the Class Overview. You can always change your Class selection by selecting the Filters button at the top of the screen, or selecting the indicators below the Filters button that show which class is currently selected.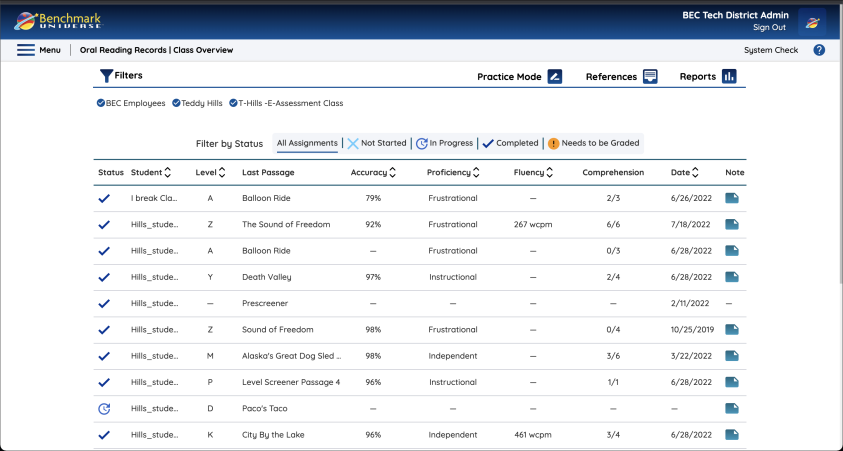 To learn more about creating and editing your ORR assignments, please see the relevant teacher pages:
Using the Student Overview Page
Create and Edit Oral Reading Records Assignments
Recording Audio of an ORR Session
Administer a Level Screener or Prescreener
Marking an Oral Reading Record Passage
Record a Student's ORR Comprehension
Analyze a Student's Oral Reading Records
Review a Student's ORR Summary
Last Updated: July 21, 2022